UNITECH POULTRY CONSULTANTS
PVT LTD
Welcomes You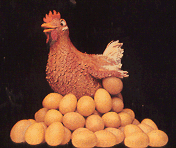 "POULTRY"
Where money multiplies like magic!

About its inception :
During the course of providing services under the name & style of our parent company Unitech Business Consultants, we found that Poultry had a big future in India.
We being an agro based economy couldnot ignore Poultry (an allied agricultural activity), as a nation and also as an individual entrepreneur.
About a decade back the advantages of getting into this industry were:
Low manpower requirement due to cage system hence no trade union problem even for a big unit.
Low power requirement,
An excise free item,
No sales tax hassles
Octroi reliefs (All inputs & produce is octroi free)
Income tax relief benefits.
Cash sale product whereas the raw material was available on credit. (This was not possible in most of the industries).
The product didnot carry any trade mark like BATA , PEPSI etc.hence even a new entrant could get to sell his product easily and at the same price as an established person.
No adulteration was possible. The competitor or the entrepreneur farmer could not adulterate the egg hence it was identified as a comparatively tension free industry.
New Entrant & Pioneer Status Industry. The poultry farms were previously known as "farms" and were thus called a lower end business but cage system made it possible to be called an industry.
Completely insured project. With the advent of cage system the counting of birds had become a very easy job. Hence the poultry insurance of all assets including that of the birds had become possible and hassle free both for the farmer & the insurance cos.
Easy Monitoring & maintenance. With cage system maintaining cleanliness etc. had become very easy and wastage of feed etc. had been greatly reduced.
Price Shield. Another factor which contributed to our devoting concentrated attention on this field was the fact that at that time more than 95% of total farms were "old floor system" farms which meant that their cost of production was very high. This also meant that they could not go below a certain price whereas the "New Cage System" farmer i.e. the cage system farmer made handsome profits even at that price as his cost of production was very less. This made the projects very lucrative as the price shield was going to be there for a long time to come.
This single most important reason has come out to be true beyond our wildest imagination. Even today the "old floor system" farms are about 80% of the total farms and the price shield is still there.
The poultry production rises but so does the human population at a still faster rate. More and more people have realized that the cage system farm egg has no fertilized living mass which can produce a chick hence it is a completely vegetarian food item because if this is not so then even the cow's milk will also have to be classified as a non-veg item. For this reason the number of Eggetarians is increasing every day.
We had 20 eggs per capita about a decade back. This has gone upto 32 eggs per capita today but the desired availability is 180 eggs per capita i.e. one egg every other day. Hence on the demand front also we have not been able to meet the requirement of this consumer item, which remains the cheapest source of unadulterated animal protein, even cheaper than some vegetables and thus became a favorite of even the very poor road making labour who relish it as "Egg Curry" ·
Door step service. Poultry farmer mostly was required to take care of his farm and ensure that there was no wastage of inputs. Existing setup ensured that feed suppliers supplied feed at the poultry farm (on credit) and the egg lifters lifted the eggs from their farms (on cash terms). .
Unitech Poultry Consultants (P) Ltd was thus incorporated
Poultry Scene at that time: This was the scenario about 13 years back when Unitech Poultry Consultants came into existence after a deep thought. It is much the same today and after having been associated with a large number of farms and having contributed to Barwala become the biggest poultry belt in Asia the Poultry Consultancy firm was made into a separate private limited company. Barwala was not on the poultry map till 1984.
Future Prospects of Poultry Industry:
We had so far been relying on the national market as the egg being a fragile item could not be transported over long distances. Hence although our costs work out cheaper than many world economies due to cheap labour and feed prices it was still not possible to export the eggs in an economicaly viable manner.
Many people are not aware of the fact that egg prices even in a close by country like Pakistan are just double than our prices.
Now this is all going to change as with the help of latest "Egg Powder Technology" the egg can now be dried into powder form. By addition of water alone it resumes all its original qualities and hence the "difficult to transport" egg can now be transported to long distances at a fraction of the earlier transportation costs. A by-product of this egg powder making process is very good quality 99.99% pure calcium. This pure calcium is produced from the egg shells and finds use in medicines & tonics.
The Egg powder technology has opened up many new far-off markets like African & Nigerian countries which badly need low cost but nutritious food and shall now be able to get it as aid in the form of nutritious egg powder with the help of World Bank aided Abolish Hunger Projects.
The future is thus bright for many more years to come
Nature of Activity :
Just like our parent co. Unitech Business Consultants (UBC) the primary and foremost activity of this company is in the consultancy field only.
However there is a difference when a deeper insight is made into the services provided by both the companies it is found that whereas UBC confines itself to providing services pertaining to financial sector with very rare wavering into the technical aspects, the company Unitech Poultry Consultants (P) Ltd takes pride of its pioneering work in the technical aspects of setting up a modern cage system poultry farm. However here too we steer clear off the clinical aspects as it is a field requiring further specialization.
Some of the changes brought about by us in this field are
An increased use of computers for the purpose of Formulation of poultry projects, Computerized lay outs, Flock supervision and Least cost feed formulation programs based on open ended linear equations. In simple terms it means an appropriate use of latest technology for low feed cost and better farm management in an easy manner.
Many changes were brought about in basic cage design and in the shed designs resulting in savings of as much as 25%.
The traditional building construction technology was also given a closer look and it was found that it suffered from certain basic flaws. The time taken to construct say ten sheds in a farm used to be at least 15 months at 1.5 months per shed. The contractor would invariably bring shuttering material for only one shed and would thus construct one shed at a time. This shuttering material would more often than not be reduced to firewood by the end of his contract. This cost was built into his labour charges resulting in higher cost.
Similarly the more time taken to complete the project resulted in a higher interest cost and the upward fluctuations in the prices had also to be borne by the promoter whenever the projects look more than a year to complete. All this brought us to a point where a change in the building technology was imminent and also required immediately.
At this point of time, work was started on "Pre-Fabrication System of Construction". Slowly but surely it was perfected and fine tuned to the specific needs of the industry.
Pre-fabrication was started in a small way with replacing thousands of small brick pillars in layer sheds with pre-fabricated cement pillars of a smaller cross section at a considerable low cost and it has today reached a point where we are in a position to supply pre-fabricated complete roofs at lower costs than lintel sheds.
This technology has added advantages in addition to saving time, cost & interest etc. It has today facilitated the relocation of farms where after a span of 7-8 years or so the land prices appreciate a lot and the farmers wish to cash-in on them by dismantling the building & relocating at a cheap cost. Queer as it may appear we have made this happen and practically possible and economically viable too. Today more & more farmers are opting for pre-fabricated building components as the lands on which they are constructing their farms are bound to appreciate. It is the land alone which appreciates and is most valuable when vacant.
WHAT ARE WE LOOKING FOR
Recently we have decided to offer our services to a large number of interested clients all over the World, to whom we could not attend to on our own. This is to be done in such a manner that our services can be made available, easily, through our proposed Business Representatives, all over the world. We are seeking individuals and firms with good reputation to work with our support as our Associates although they may not be experienced in our line of activity.
This is an opportunity to share our success and earn substantial fees. This is a lucrative field of specialized activity and can also make a profitable extension to other professional activities, if any.
It is now proposed that our Representative's offices shall take up the job of first meetings and with our quick on-line support the desired services shall be provided to the clients.
Then once the client agrees to proceed further, our Central office shall take over and do most of the job except for the local work which the Associate will be able to handle easily with our active support and guidance.
We shall provide all the necessary support & know-how to start and run the various offices in a smooth manner. The Associate can operate from home also although a commercial setup is welcome. No major staff recruitment shall be necessary , training shall be provided by us.
HOW MUCH DOES THE REPRESENTATIVE GET?
Our charges from our clients range from 2% to 5% of the total project cost for a new project and similarly for a takeover deal the buyer and seller pay a total of about 5% of the sale price. Today the smallest projects fall in the range of 30-40 Thousand birds and an average project/ deal thus generates healthy fees. On a very conservative estimate even if just twelve projects/ deals are initiated or finalized with the help of an Associate, in a small town, in one full year the Associate shall receive enough amounts @ 25% of our charges. This is bound to be much more for cities with more potential.
This is an ideal opportunity for Poultry Farmers also and others related to poultry field, in one manner or the other, who can spare some time and add to their incomes in a big way.
* * * * *
---

Contact:
---
Site designed and maintained by:
copyright © 1997 unitech (India).